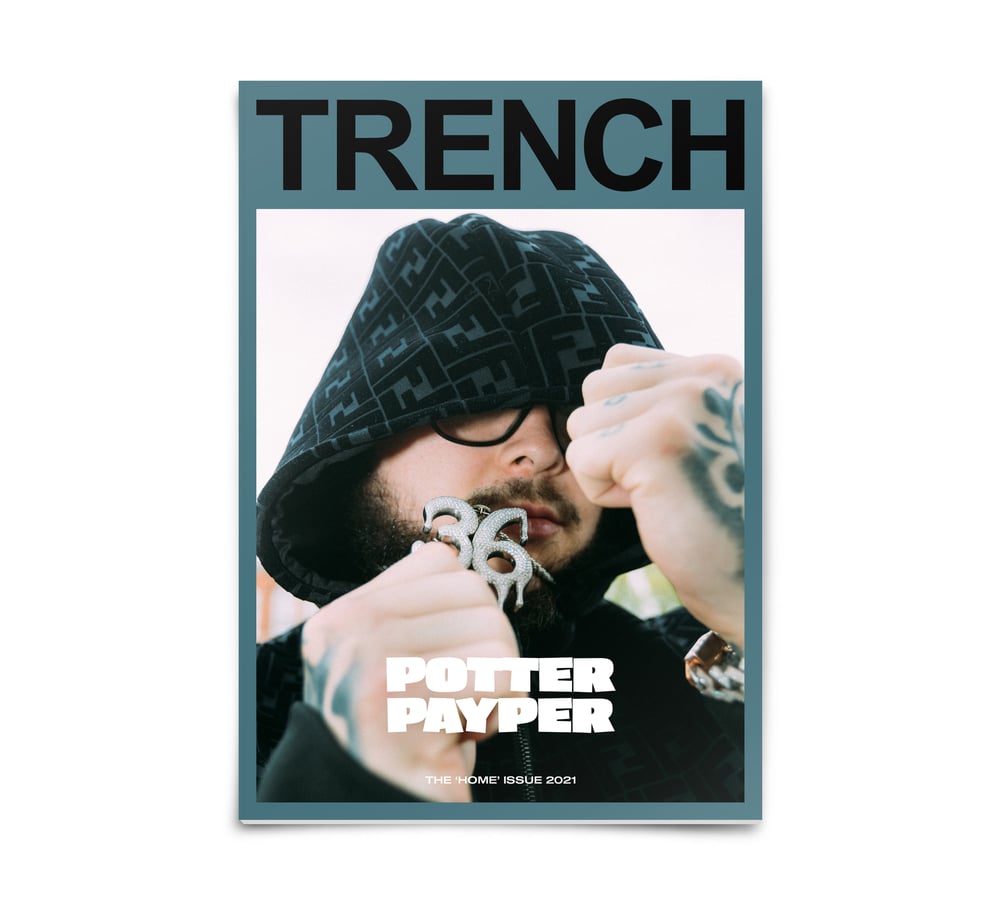 *PRE-ORDER NOW - SHIPPING FROM SEPTEMBER 6TH 2021*
TRENCH meets... Potter Payper
COVER 5/6
+++++++++++++++++++++++++++++++
Yo, TRENCH gang! We're finally back in print for your headtops! After dropping our D Double E zine back in 2018, we thought it was about time we hit you with a new physical edition of what we've been doing so well over at trenchtrenchtrench.com: documenting Black British music and culture like no other! Alongside our six epic cover stories, we decode UK drill's obsession with Marvel, <3 Morley's, look into Britain's remix of its racist past, pay our respects to the late Black The Ripper, and much more.
COVER 5: POTTER PAYPER
The scene wasn't what it is now back in 2013 but Potter, along with second-generation road rap peers such as Nines, Skrapz, Fredo and good friend Mover, were cultivating fanbases based on gritty lyricism and movie-like soundscapes. Money was on Potter's mind throughout this embryonic time, but not the kind earned from music, and he was fully entrenched in the street life his raps portrayed.
+++++++++++++++++++++++++++++++
| MORE INFO ON P&P + COVER ROLLOUT |
All prices listed above do not include postage and packaging costs.
This cover is a part of a six-cover rollout over the next few weeks. All covers are available to pre-order, however, they will only be sent out once they're announced. Each cover's product page includes when this date is.
If you order an 'announced' cover along with an 'unannounced' cover, you will receive your 'announced' cover separately to the 'unannounced' cover. Each cover will be sent out separately, with individual P&P costs.
Any further questions on P&P, what our '+ Support' cost goes to, ordering separate covers before they're announced and more, head to our FAQ page via our shop.